CS 330 Lecture 2 – Shell Scripting
Agenda
what ?s
who you are
toolsmiths?
duality
redirection, expansion, and substitution
some scripts

find biggest files
recycle instead remove
mass email
TODO
Read chapter 13 through 13.2.1.
If you are thirsty for more:
Optional challenge: write a one-liner to change permissions of all files and their descendants to be others-readable (without qualification) and others-executable (if and only if the file's owner has execute permissions)? Such a "sensitive" command is useful on a server, where you want to give execute permissions to subdirectories and scripts but not regular files.
Two questions and two observations on a 1/4 sheet for Monday.
The UNIX Way
Doug McIlroy said:
This is the Unix philosophy: Write 

programs

 that do one thing and do it well. Write programs to work together. Write programs to handle 

text streams

, because that is a universal interface.
Code
newfunc
#!/bin/sh

echo "jfaksdfhaskfhasdkjfhsadkfjhasdkjfs"

exit 7
bigfiles
#!/bin/sh

du | sort -rn | head
safe_rm
#!/usr/bin/env zsh

mkdir -p ~/.junkies
for i in $@; do
  mv $i ~/.junkies/${i:t}.$RANDOM
done
massmailer
#!/usr/bin/env zsh

for i in $(cut -f2 -d, here.txt); do
  echo "Delete this." | mail -s "[CS 330] Real Good Price on Stuff" -r johnch@uwec.edu $i@uwec.edu
done
Haiku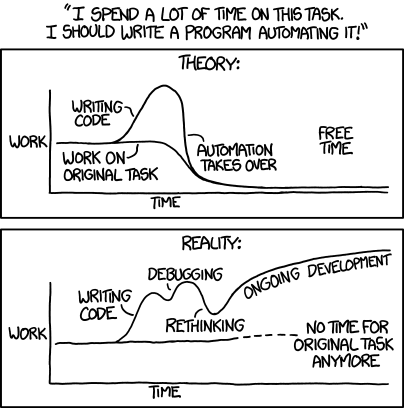 It's not to save time
My brain dies a little bit
When I use my mouse
Comments